We have all met with that unfortunate situation where we want to smoke, but we are out of charcoal. It is frustrating, terrible and a ton of other negative adjectives. The only way to truly avoid this situation is to stock up on charcoal and make sure that you always have more than you could need. But, charcoal can get expensive really quickly. How can you stockpile a lot of coal for a low initial cost?
Make your own Charcoal!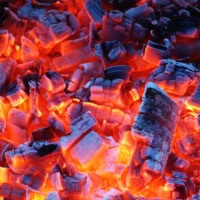 Let's start with a warning. Never use lumber wood or reclaimed wood of any kind. If you are going to make charcoal or even burn wood in a fire, you need to make sure that t is free of toxic chemicals or treatments that could be irritating or even fatal. Did you know that some deck lumber is treated with arsenic to prevent mold and wood eating pest? I'm no expert, but smoking arsenic is probably not a good idea.
Next, not all wood is safe to use for charcoal. Never use evergreen woods or any other wood that is resinous or a softwood. You only want to use hardwood that is considered food safe because there are a lot of trees that are actually toxic. Fruit woods like apple, olive, cherry, lemon and orange are the best wood that you can use. Oak is also good because it is so dense. The type of wood you use can actually have an effect on the flavor of your session, as is the case with woods like mesquite. This is why olive and lemon are most commonly used. They have a neutral flavor that does not add to the smoke in any way.
The actual process of making charcoal is fairly simple. Cut the wood into chunks that are about twice as large as the size that you want the charcoal to turn out. The pieces will shrink, but you can always cut them down later if they are too big. Pack these pieces into a paint can that has been thoroughly cleaned to the point of being spotless and then seal it up with the lid, which has had 3-5 nail holes punched in the top to vent out the gas. I actually prefer to buy a clean, unused paint can from someplace like Home Depot.
Remember to pack the wood in tightly to reduce the amount of airspace. You want as little oxygen to be a part of this process as possible.
Now you just need to heat the container. You can just put the can in a good sized wood fire for about an hour and a half or you can use a propane burner for the same effect. The holes will vent off steam, then smoke and then actually turn into little jets of flame if allowed to ignite. After this period of time, use a heat safe tool, like a pair of channel lock pliers, to remove the can from the fire and place it on a fire safe surface.
Place a wad of wet paper towel over the holes and let the can cool for at least an hour and a half. When the can is entirely cool, open it up and check out your charcoal.
The process is not all that complicated, but it can be dangerous if you don't do it properly. On that note, ALWAYS DO THIS OUTSIDE AND IN AN AREA THAT IS SAFE FOR OPEN FLAMES! I don't think I should have to say that but you may be surprised.