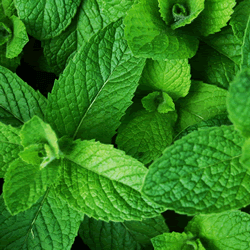 Fresh and invigorating; mint is one of my favorite flavors to smoke. Sadly, many mint flavors are a bit lacking and leave me wanting something more. I have heard every suggestion you can imagine for increasing the minty intensity of a tobacco. From crushed up Altoids in the base water to a bunch of freezable accessories that don't really do much; there are a lot of different techniques being tossed around, but I believe I've got the answers that will make the Ice King do a jig and slap you in the mouth.
Mint flavoring
Adding some high quality, mint flavoring to the tobacco before you have your session it is going to offer a boost in flavor as well as the chilling effect of the smoke. You don't need to add much, maybe a few drops, but you do need to buy the right stuff. I suggest LorAnn flavoring oils because they are very high quality and ridiculously concentrated. They offer a spearmint and peppermint oil, both of which pack a serious punch, but the peppermint is the one you want if your looking to replicate the icy grip of Tangiers Cane Mint or Mizo Mint. Spearmint is more of a mint gum flavor and delicious, but not what most people want.
If you can't get your hands on the LorAnn flavoring oils there are other options, but you need to know what to look for. Avoid anything that is alcohol based. Generic Glycerin based flavorings are fairly easy to find in most kitchen supply stores and will even add a little boost to the smoke because of the glycerin content.
Menthol Crystals
If mint flavoring is a turbo boost then menthol crystals are a shot of nitro. For those who are more concerned with the cooling effect of the smoke rather than the flavor of the mint, menthol crystals are the solution. These need to be dissolved in glycerin before they can be used in your tobacco but even a tiny amount will make each draw feel like Jack Frost just punched you in the lungs. Use too much and it can easily become too intense for even the most stalwart mint smokers, so start with less and work your way up.
If you mix menthol crystals into LorAnn flavoring oils and add that to the tobacco… see you in 1000 years after the cryogenic chill wears off.