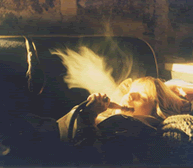 One of my favorite things about smoking hookah is turning new people on to the experience. I even have dreams of opening my own hookah lounge someday. However, I've had a few unfortunate adventures in a few so-called hookah lounges that didn't even carry popular hookah tobacco brands such as Starbuzz, Al Fakher, or Romman. So if you're going to share your wealth of knowledge with your friends and open their eyes to the hookah world you may want to take your hookah tobacco menu a little more seriously. After all their first hookah smoking experience is very important. It only takes one oversight to turn your hookah experience from "yes, please" to "no thanks". Here's a quick rundown on how to make someone's first hookah smoking experience perfect!
Know what the popular hookah tobacco flavors and brands are. As mentioned above, Starbuzz Tobacco and Romman are among the thickest smoke in the industry, both having amazing, consistent flavors that last a long time. Other brands such as Social Smoke, Fantasia, Al Tawareg and Al Fakher are all considered to be great brands as well. Below is a list of personal recommendations to have on hand at all times. In my opinion, these are "the best of the best" shisha tobacco flavors.
Starbuzz Tobacco – Blue Mist, Cola, Peaches & Cream, Pina Colada, Pumpkin Pie, Vanilla, White Peach, X on the Beach
Romman Tobacco – Double Apple, Good Times, Chocolate Mint, Strawberry, Turkish Coffee, Mint
Al Tawareg Tobacco – Dark Chocolate, Guava Kuava, Orange Cream, Tropical Pineapple, Wild Apricot, Wild Mango
Social Smoke Tobacco – Absolute Zero, Pink Lemonade, Tiger's Blood
Al Fakher Tobacco – Golden Grape, Jasmine, Watermelon
Fantasia Tobacco – Cactus Breeze, Caramel Frappuccino, Rainbow Burst
Also, you should let your friends smell the hookah tobacco before they decide on a hookah flavor. Smell is such a huge factor when smoking hookah. If a certain flavor's aroma rubs a person the wrong way, chances are they won't enjoy smoking it. Logic 101. People often find themselves only interested in certain flavors early in their "hookah training" but eventually graduate to more and more flavors that they initially didn't expect to like (such as Jasmine, Turkish Coffee, or Guava). So let them decide for themselves instead of pushing your favorites on them.
The rest is pretty simple. Make sure your hookahs and hookah hoses are clean and working properly. In other words, make sure your hookah hoses don't taste like the last hookah bowl you smoked, and that your grommets are doing their job, and your BBs aren't sticking. Also, make sure you pack your hookah tobacco loosely in the hookah bowl allowing for perfect airflow between you and the coals. Speaking of coals, buy coals that don't interfere with the hookah's flavor. I recommend Coco Nara coals. But whatever you do, please make sure you do not overheat your shisha tobacco to the point of burning it. Coals are meant to heat the shisha – not burn it. The last bit of advice is to use ice in your base. A lot of first time hookah smokers have a tendency tobe a little nervous about it making them cough. Ice can help with this. The cooler the smoke, the better!
Stock up on a few minty flavors, a few fruity ones, a few dessert types, and a few coffee/chocolaty shisha tobacco flavors, and invite your friends over for an evening they will remember for the rest of their lives!
by Jonathan Scott – Hookah-Shisha.com