Social Smoke (SocialSmoke.com), based in Arlington, Texas, is a manufacturer of hookah pipes, accessories, and tobacco. They are one of the largest hookahs wholesalers in the U.S. and also have a retail website as well.
At the beginning of 2010 Social Smoke introduced its very own line of hookah tobacco named Social Smoke. It is produced in their factory in Arlington. Social Smoke flavors are characterized by their lack of dyes, colors, or preservatives as well as smooth smoke, and long lasting flavors. They are now competing head to head with other premium brands such as Starbuzz and Fantasia.
Scroll past the flavor boxes to read more about Social Smoke company and a complete list of Social Smoke flavors.
Our Social Smoke Shisha Flavor Reviews
Packaging
Social Smoke tobacco is available in 50g, 100g, and 250g cans as well 1 kg buckets. All the packages are double bagged in clear plastic bags. The 50g, 100g and 250g tobaccos are then placed inside a plastic can while the 1kg tobacco is placed in a plastic bucket.
Smoke Duration & Thickness
Social Smoke shisha flavors generally have thick and large smokes. A large bowl of Social Smoke tobacco usually lasts about 45 min to an hour and a half depending on the flavor, how fast you are smoking, or how many people are smoking it.
Social Smoke History & Growth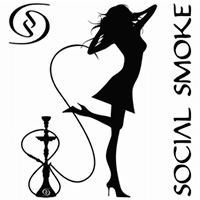 Social Smoke was founded in September 2002, but it wasn't until its website went live in October 2003 that it considers itself officially open for business. After its launch as an online retail website, Social Smoke quickly moved into wholesaling in the spring of 2004 and attended its first trade show during the summer of 2004.
Throughout the end of 2004 and 2005 Social Smoke continued growing its retail and wholesale operations. During 2006 the first products designed by and produced for Social Smoke were imported.
It was during the 2004-2007 period that Social Smoke experienced such explosive growth that it was #422 on INC magazine's 2008 INC 500 list. This was followed by coverage by CNN and Fortune Small Business magazine in August 2009.
Make sure to also read our interview with Abrahim Nadimi, co-founder of Social Smoke.
Social Smoke Flavors List
Absolute Zero: Blend of mixed Mint flavors
Arabian Nights: Arabic Coffee with hints of Cardamom
Apricot Lemon
Baja Blue: Blueberry, Raspberry and Mint: Baja Blue vs. Starbuzz Blue Mist
Banana Foster: Banana, Vanilla, Ice Cream. Here is also a review of Banana Foster mixed with Shisha Fruits Banana.
Berry Punch: Light flavors of different berries mixed together
Blackberry
Blue Raspberry
Blush: Mix of floral, citrus, and other fruit including a hint of Rose.
Cali Peach
Cantaloupe Chill
Chai Latte: Combination of tea, milk, Cinnamon, Clove, & Ginger
Chocolate Chill: Dark Chocolate and Mint
Cinnamint
Cinnamon Roll
Citrus Peach
Coconut: Smells and tastes like a sweet Coconut
Cosmopolitan: Mix blend of Cranberry & Lime juice
Double Apple: Red and Green Apple mixed together. Compare review with Starbuzz Double Apple.
Dulce De Leche: Caramel with a sweet, creamy finish
French Vanilla: Vanilla and spices
Ginger Tea
Golden Delicious Apple
Grape Chill: Sweet Grape with a minty undertone
Honeydew Melon
Hong Kong Milk Tea
Horchata Cajeta
Japanese Yuzu
Kiwi
Lemon Chill: Mix flavors of Lemon & Mint
Lemon Drop
Lime
Mango
Margarita
Mint
Mobster: Guarana beans, Citrus, Raspberry, and Pineapple
Pandora's Box
Passion Fruit
Passion Fruit Mojito: Combination of Lemon, Lime juice, Passion Fruit, and Mint
Pear Chill
Pina Colada: Pineapple and creamy Coconut flavor
Pistachio Breeze
Potion 9: Mix of Melon, Cherries, Raspberries, and Pineapple
Sex Panther: Cranberry, Peach, and Orange
Strawberry Kiwi
Tangerine Rush: Tangerine and Citrus
Tiger's Blood: Mix of Blueberries, Raspberries, Strawberries, and Cherries
Tropical Fruit: Coconut with Pineapple and other Tropical Fruits
Twisted
Vegas Bomb
Voltage: Blend of Watermelon and Lemon with a hint of Amaretto's sweet almond
Watermelon
White Gummy Bear
Wild Berry
Wild Berry Chill: Wild Berries & Mint
Discontinued Flavors
Below are some of Social Smoke discontinued flavors that we've reviewed in the past:
Social Smoke Hookahs
Social Smoke also makes hookahs. They specialize in Egyptian models like stainless steel hookahs manufactured by Magdy Zidan and modern hookahs like Stargate and Juniors. They typically order only parts from assemble them in Arlington, Texas to allow customization.