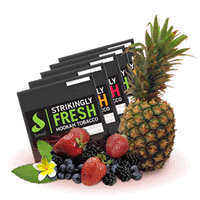 Modern style hookah tobacco produced by San Diego's first hookah lounge, The Fumari Lounge. Fumari tobacco is considered to be one of the most strongly flavored tobacco brands on the market. This brand has a strong fan following and is often said to be an underdog that could rival the biggest brands. Fumari Hookah Lounge is the owner of Fumari shisha brand. They opened on December 13, 1997 as San Diego's first Hookah Lounge.
Billed as "Strikingly fresh", Fumari tobacco is known for having very strong flavors. This is a modern style tobacco that is very light in nicotine and heavily flavored with flavors ranging from Apricot to Mint chocolate Chip to White Grape. The brand has a strong following and has some of the strongest flavors on the market.
Smoke Duration & Thickness
Fumari gives very thick and large clouds. An average bowl of this tobacco should last between one and two hours depending on how you pack and smoke it.
Fumari Packaging
Fumari hookah tobacco is packaged in a black, 100g or 1000gr, resealable bag similar to a zipper lock freezer bag. There is no box or tin.
Our Fumari Flavor Reviews
[envira-gallery slug="fumari-flavors"]
Fumari Flavors
[wpdatatable id=7]