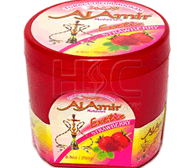 Brand and Flavor: Strawberry
Shisha Tobacco Cut: Wet but paste like. Lots of molasses. A random cut with a mixture of different sized pieces.
Hookah Type: KM double trimetal. Nammor hose
Duration: 45 minutes
Bowl: Vortex bowl
Foil / Screen: Regular foil
Coal / Amount: 3 CH QL coals
Smoke: The clouds were slow in coming. It took a long time for this tobacco to heat up. Once it did I would say it had medium to large clouds.
Buzz: An ok buzz. Light.
Smell / Flavor: This one smelled like candied strawberry and strawberry preserves. The flavor is like those old style strawberry candies that had liquid candy in the middle. It's pretty good especially for a strawberry flavor.
Rating (1 to 10): 7. I liked this flavor quite a bit. It's one of the better strawberry flavors I have tried. I am happy with it. Like I said earlier it tastes like one of those strawberry hard candies with the liquid candy in the middle. It is by no means a real strawberry flavor but that is almost impossible to replicate in candy or in an artificial way. As an artificial strawberry flavor this recieves pretty high marks. The flavor is a little bit light and I can still see a lot of room for improvement. If you are looking for a strawberry flavor you can do a lot worse than this. At least this one reminds me of strawberry and actually tastes like anything.