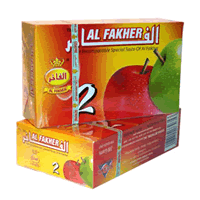 I've been severely lacking in any kind of double apple in my life recently and I have been feeling those familiar cravings. To satisfy this I broke my usual trend of only buying hookah tobacco online and decided to visit a local shop. the only shop I could find with some DA was a little place that wasn't really a hookah shop or smoke shop, but just a kind of convenience store that stocked some tobacco. The only option I had was Al Fakher 2, which is a double apple flavor.
This blend was released to compete with the wildly popular Nakhla Double Apple, which is one of the most commonly smoked tobaccos in the world. It's also considered the gold standard for double apple, or two apple flavors.
The smell is good. It's a light apple standing behind a decent licorice and anise scent. The presence of a distinctly licorice type scent was a little disconcerting but I found the smell to be nice and pleasant.
I found the flavor to be a little bit of a disappointment. The flavor started with a strong licorice flavor that I am no longer surprised by with DA flavors, but it's not what I want. This flavor remained dominant with just a little apple-like flavors poking through mid session. The licorice mellowed out a bit and became more enjoyable, but it's not the aniseed flavor that should be coming through with a good DA flavor.
6 out of 10. All in all, I don't think this is the competition for Nak DA that AF was hoping for. It's not bad and for only $10 for 200g it's not overly expensive. If you like DA then you might want to give this one a try. If you like licorice then you should definitely try this one but I want the complexity associated with aniseed rather than the single note of licorice. I know some people that really love it, but for my money I am sticking to Nakhla Double Apple when the craving hits.