This new review is for Al Fakher Golden Grape. This is from the fairly small line of Golden flavors from Al Fakher which include a strawberry, eskandarani apple, rose and grape. This grape flavor is nice and sweet. It's a red style grape flavor rather than the green that the normal line is supposed to be. That means that the flavor is a bit sweeter, somewhat more complex and a little more robust. I am not entirely sure that this was captured with this blend but it's still nice.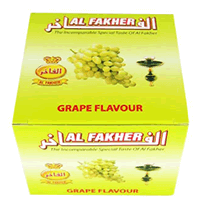 I was enjoying the blend most recently out of my Khalil Mamoon double trimetal and a standard Egyptian bowl. Sadly at the end of this session I saw water leaking out of my base and found that it had a hair line fracture running along the bottom. So once again the Km is going to be out of the game for a bit… just got that base too.
Well, back to the task at hand. All in all I would say that this is a good flavor that sits somehwere between a realistic grape concentrate and a grape candy. It's slightly artificial but mostly tastes like a sour grape jelly. I am a fan. This flavor can get cloying after a while and it can get a little harsh if not tended properly. I aired this one out for a while after smoking it the first time and that reduced the harshness problem but it can still occur if treated improperly.
8 out of 10 for me on this one. A little fickle but a nice and strong flavor with good clouds and good mixing potential.