https://www.youtube.com/embed/MU-8wDzZeBk
Hello, folks, it is Paul here with another review for you. This one is for Al Fakher Guava shisha. And I'm enjoying it. I haven't had all that many guava flavors, but I like the fruit, I like the flavor and this one is nice, if maybe a little light. In the package it smells like realistic guava, which is really cool because I've found that most other guava flavors – that I've had at the very least – taste a lot like guava bubblegum, like tropical bubblegum and this one smells, at the very least, in the package, like real guava. It's definitely sweet, but it has kind of that slightly refreshing vegetal tone to it that's really interesting. And I was really looking forward to packing this one up and smoking it.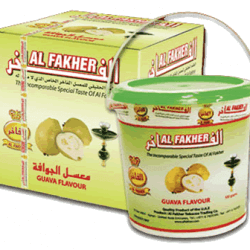 I've smoked this one a few times now and I like the flavor. It's definitely light, like I said. It is, okay, I'd say that it's on the light side of medium because it's noticeable and it's distinct and it definitely tastes like guava but I just wished it were a little stronger, I wished it were a little punchier and a little more succulent. It's good. It's kind of dry, there's not a lot of sweetness in the smoke, but that makes it kind of a refreshing flavor, which is good. The flavors like this I find to be really good in the summer, which it is right now. It's almost July at this point and in Southern California things get real hot and I'm looking forward to having this one for the rest of the summer and enjoying it on those hot, hot, hot Los Angeles nights.
The clouds are good. They're about what I'd expect from Al Fakher. It's a very modern-style tobacco by my standards. The clouds right now are a little weak because I haven't moved my coals in a while, but you can expect to get pretty good clouds. So that's about it. This is a positive review for Al Fakher Guava and if you like guava as a fruit or if you like guava flavors, I definitely suggest checking this one out. So that's it. Thanks very much for joining us. Go down below, like and subscribe, give us that thumbs up and I'll see you guys next time. Happy smoking.