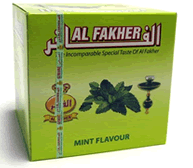 Brand and Flavor: Al Fakher Mint
Shisha Tobacco Cut: Dripping wet and chopped. Very red.
Hookah Type: KM double trimetal. Nammor hose
Duration: 45 minutes
Bowl: Vortex bowl
Foil / Screen: Regular foil
Coal / Amount: 3 CH QL coals
Smoke: Great smoke. Pretty big clouds and a good mouth feel.
Buzz: Medium to light buzz
Smell / Flavor: Smells like mint. No big surprises there. It tastes like a good, sweet and smooth mint flavor. It's slightly artificial and does not taste like chewing on a plant in the mint family but it is damn good.
Rating (1 to 10): 8 on the mint scale. It is hard to judge pure mint flavors against other non-mint flavors. As far as mint flavored tobaccos go this is a good option. I have had mints that tasted entirely like gum and I have had mints that reminded me of chewing on an actual leaf of a mint plant. This is somewhere in the middle. It does not have the distinctly plant like quality that something like Nakhla mint has but it's not entirely fake either. It's like a sweetened mint extract. If you are looking for a good solid mint then you can do far worse than Al Fakher mint. I suggest it to those who want a mint that is flavorful but not going to burn every time you draw on it.