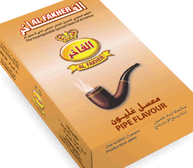 Brand and Flavor: Al Fakher Pipe
Shisha Tobacco Cut: Shredded and very drippy. It's soaked.
Hookah Type: KM double trimetal. Nammor hose
Duration: 35 minutes
Bowl: Vortex bowl
Foil / Screen: Regular foil
Coal / Amount: 3 CH QL coals/ 2 CH QL coals depending on heat needed.
Smoke: Awesome smoke. Very thick and dense. A strong mouth feel and often unpleasant sensation in the lungs.
Buzz: Light buzz. It can creep up on you if you are not careful.
Smell / Flavor: It smells like chocolate and tastes like chocolate with a slightly smokey and bitter after taste.
Rating (1 to 10): 5 I enjoy a good western pipe now and again. I am also a cigar smoker. When I first heard about this blend I was excited. Sadly the flavor that is implied by the name is nothing close to what you can expect. I am docking this one for inaccurate flavor and for it's issues with the now infamous throat tickle associated with the new Al Fakher. Not entirely unpleasant regarding flavor but it works better as a mixer to avoid the heat management issues that it has and to add a little chcolate flavor to a blend. Alone it's a bit too cloying at times. This blend was improved by a little acclimation but not to the point of raising the score.