The holidays have been crazy, as most of you can attest and now I finally have time to sit down and catch up. Given the opportunity, I decided to sit down with Fantasia Ace of Spades and give it a shot.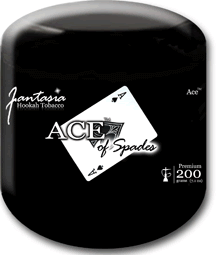 Fantasia is definitely not my usual tobacco choice. This is a super modern style brand and it's notorious for being drippy wet with a blazing red hue that rivals the most iconic candy apple. For some people, these are selling points. For me? Meh. I usually avoid such tobaccos because they tend to be the syrupy, candy flavors that do nothing for me.
The smell is kind of like a pack of Andes mints. It's lighter than I expected it to be and there is a slightly waxy note that rings of artificial chocolate flavored candy and a tiny bit of coffee. There is not much mint to speak of, which I found a little disconcerting for a chocolate mint flavor.
The flavor is okay. It's a much lighter flavor than I was hoping for. I think that this is a good starting point for chocolate mint flavors, but I prefer something much more potent. For my money, there are much better options. On the other hand, if you have tried chocolate mint flavors before and thought that they were too strong or too cloying this might be a good option for you. This one just didn't have enough chocolate or mint for my tastes. I'll take Nakhla ChocoMint any day. Social Smoke Chocolate-Chill is another great option for those who like more modern style tobacco with less of a buzz than Nakhla.