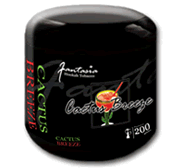 This is what makes up a cactus breeze according to various drink sources and I have never had one. When I heard "cactus" in the name I thought it was going to taste of cactus pear. Cactus pear is an interesting little fruit that grows in the desert, you guessed it, on a type of cactus. It's tasty and it quite unique in regards to flavor
Fantasia is usually very good about making their drink based flavors taste like the drinks they are replicating but I have never had a cactus breeze so I can not really comment on it's accuracy. I don't really taste much cranberry but that's a super subtle flavor anyway. The flavor definitely has notes of cactus pear so I think that the recipe they are basing this on varies from the ones I found. The flavor is similar to the Tangiers Cactus Fruit that I have smoked for quite some time and that's a good thing.
2 oz of cranberry juice
2 oz of pineapple juice
2 oz of sour mix
2 oz of vodka
The clouds are what you should expect from Fantasia at this point. Big and fluffy. Smooth smoke that is easy on the lungs.
7 out of 10. I really like Fantasia Cactus Breeze and I feel that the cactus pear flavor is dominant enough that it earns it's name. I would call it more of a candied cactus fruit flavor with notes of pineapple and sweet fruit because it's missing the sour bitterness that cranberry should lend the drink but I think it's worth a shot.