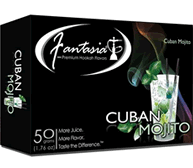 Fantasia is a brand that focuses on flavors based around mixed drinks or desserts and this flavor is obviously a mixed drink flavor.
I am a huge fan of mojitos and I am a huge fan of lime as well. Lime is one of the major components of a mojito and the way they are used in the drinks makes for a very unique flavor profile. The limes are muddled with mint leaves meaning that they are crushed to release their juice and the essential oils from the skin of the lime and leaves of the mint. This flavor had a lot to live up to.
Fantasia is known for making very wet and very strongly flavored tobacco. This tobacco does not break that trend. The scent is very powerful and the tobacco is literally dripping with red liquid. It smells like a bit of mint mixed into a very sweet lime flavor but there is no hint of the essential oils I love.
The clouds are massive and the flavor is strong but it's not as accurate to the drink as I would have liked. The lime flavor is like that of a lime cnady and bears little resemblance to the actual fruit. The mint is more of a mint feeling and a cooling sensation than it is an actual mint flavor. this tobacco is very sweet and would be well suited to people who like their mixed drinks made with artificial syrups and very little alcohol.
There is no buzz to speak of or me. The longevity of this tobacco is fairly good because of the amount of liquid there is in each pack. It's really hard to burn this stuff and I suggest it for those just starting off that want something candied and easy to work with. I have heard complaints of people getting headaches from Fantasia and many think this is because they use alcohol based flavorings but I don' know if this is true and I never really expereience headaches unless I smoke way too much in the course of a day and spike my blood pressure.
6 out of 10. This lost points in a few places. First is the accuracy. Second is the price. Third is the extremely wet nature of this tobacco meaning that is a mess to deal with and there is less actual tobacco in each pack because they are packaged by weight. It's not bad if you are looking for something sweet and a little fruity but I think there are better options out there and I mix up a majito like flavor that is more accurate than this one from other tobaccos.