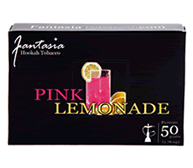 Fantasia Pink Lemonade is one of the most popular flavors that Fantasia has produced. For a while it was one of the top selling hookah tobacco flavors on the market. Pink lemonade originated with a tart drink made from the sumac berry and sweetened with maple syrup or sugar. It later became normal lemonade that was colored via natural or artificial coloring that included grenadine, cherry juice and strawberry juice. I really want to try the original version. It sounds great.
The smell of this tobacco in the box is like a sweet candy lemon with a slightly artificial note and a distinct fruitiness.
The clouds are what I expect from Fantasia. Big and fluffy.
The flavor is distinctly lemon with a hint of something else. It's not sumac, that I am sure of. It may be a bit of grenadine or I may just be imagining it. It's not a straight lemon. I really like it. It's not over powering lemon but rather a nice, sweet lemon note with a pleasant and lingering after taste.
8 out of 10. This is a great flavor I really suggest that if you are a fan of lemonade flavors that you should pick this one up. It's far from a natural lemon but it's a nice flavor. I think it gives what it promises. Sweet lemonade.