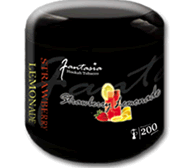 Fantasia Strawberry Lemonade is another incarnation of the wildly popular Pink Lemonade that had been the talk of the modern hookah community some time ago. I had to give this one a try as some people have said that it is one of the better flavors that Fantasia has to offer.
The smell on this tobacco is great. It's slightly lemony but mostly an artificial and candy strawberry scent. I like natural flavors a lot more than candied ones but Fantasia is known for their candy, dessert and mixed drink flavors so this is what you should expect.
The clouds are exactly what I expect from Fantasia. Big a fluffy. Sure to make the cloud seekers happy.
The flavor is good. It's mostly lemonade with a decently strong flavor of strawberry candy. I think it is very accurate to the strawberry lemonade drink powders that you can buy. My major complaint witht his flavor is that I wish it was stronger. It seems like they dialed back on the lemonade to let the strawberry be noticeable. I think this was a good decision but I wish there was a way to make them both nice and strong. Then again, if Fantasia was able to make a strawberry flavor that was strong they would be sitting on thrones at their offices. That's like the holy grail for many hookah smokers.
7.5 out of 10. It's not jaw dropping and it's far from a favorite but it's something I could see keeping around. It's tasty and it has good heat resistance allowing you to get nice big clouds without sacrificing flavor. I think it's a flavor that is worth checking out and if you like candy flavors it should be on your list.