I'm back, boys and girls! After spending an entire month away from the vast majority of my hookah stash, I am back in the game and puffing away.
What did the world have waiting for me as a welcome home gift? Yesterday I learned that there are 5 new flavors available from the wildly popular line of hookah tobacco known as Tangiers Birquq.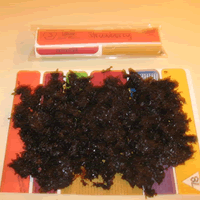 Picnic Punch
This flavor is the one I am most excited to try. This is a combination of watermelon and lime, two flavors that have been well loved flavors in the Tangiers lineup. I have had personal experience with both of these and I love the lime. The watermelon has always been kind of hit or miss. It's been re-blended more times than I can remember and the last version I had was delicious and accurately flavored, but it was pretty weak. With the latest version of watermelon hitting the shelves and my love of Tangiers Lime, I want Picnic Punch.
Aussie Juice
Crazy name for a Strawberry-Kiwi flavor. This is not a new flavor for Tangiers as a whole, but it is new to the Birquq line. Nothing particularly interesting to me as I haven't found a strawberry-kiwi flavor that I've really loved. Will this one change my mind?
Hacitragus
This one is a citrus blend and if there is one thing that Tangiers does well, it's citrus. From Orange Soda to Grapefruit, Tangiers citrus flavors tend to be delicious and accurate. Some of them are clean and crisp while others taste of robust essential oils. The only issue is that they aren't' shelf stable and the flavors fade pretty quickly. This may just be a Birquq version of ILTOBC, but I would't be entirely disappointed by that.
Pinepas
Most of us know that Pineapple-Passion fruit is a pretty delicious combination that works well in fruit juice and bubblegum, so let's see how it works in hookah tobacco. I can't comment on this one yet.
The Last Pie
I have no idea what this is. I'm hoping for apple or pumpkin pie. I bet a pumpkin pie would have been released before Halloween, so I'm kind of doubting that one.
This new round of flavors has me more excited than the last one. Hopefully, I'll be able to give you some firsthand reviews in the near future.