https://www.youtube.com/embed/2MtCBZdO7E4
Hello, folks, Paul here once again with one more review for you and this one is for Fumari Red Gummi Bear shisha. Now, I've reviewed the White Gummi Bear in the past and I definitely gave that one a thumbs up because it was accurate, it was delicious and I really enjoyed it. This one I'm also going to give a thumbs up to, but I will say it's less accurate than the White Gummi Bear. The smell in the package definitely smells like red gummy bears. It smells very, very intensely of red gummy bears, but the actual flavor is more akin to kind of a red punch, like a general fruit punch flavor. It's really good. I mean, I'm not saying it's bad by any means. I'm really enjoying this, it's definitely one that I'm gonna keep on hand, but it is not quite red gummy bear. It has some aspects of it but, I don't know, I just wish it were just a little bit more accurate. Oh, well. That's just me.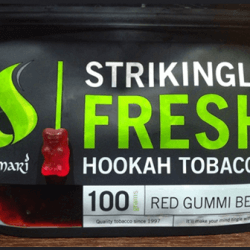 The clouds are obviously good, as would be expected from Fumari and yeah. I mean, if you like red punch flavors, then I definitely suggest checking this one out. If you like red gummy bears as well, yeah, check it out, it's good. Just don't expect to be completely wowed by how accurate it is.
So that's it. This is Paul for Hookah.org saying thank you very much for joining us. Please go down below, like and subscribe, give us that thumbs up and I'll see you guys next time. Happy smoking.