As a general rule, I like my hookah shisha to be contained in some sort of container, with a lid. Many would consider this a trivial component of hookah smoking, but I'm under the impression that it keeps the shisha fresher for a longer period of time. Not only that, but once you get down to the last scraps of shisha, it is much easier to clear out a hard container than it is a flexible bag. This is one reason I was skeptical about trying out Fumari shisha, of which I had only recently become aware. Nevertheless, their White Peach flavor looked appealing, so I bought a pack and brought it home with me to try.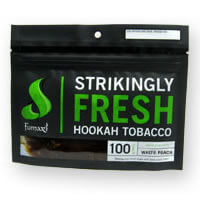 After setting coals onto my stove burner and cleaning the other components of my hookah, I set about loading my Vortex bowl. The first thing I noticed about this particular shisha was both the smell and texture. A very powerful peach scent was emitted from the bag, but yet it was not overly sweet. Sometimes other hookah shisha flavors (Starbuzz brand in particular) smell overpoweringly sweet. With this White Peach flavor, it smelled just about right. The texture, I noticed, also was what you would expect from any hookah shisha. In the past, I've realized that some shisha can get a grainy feel to it if there is too much sugar in the tobacco, resulting in an overly sweet smoking session.
After I finished loading the bowl, I placed the coals on top and a wind cover over the entire bowl. I like to take this last step to speed up warming the bowl and shisha, otherwise it may take several minutes for the hookah to begin smoking properly. The smoke comes out thin at first, but becomes thicker and thicker with each progressive pull. Fumari shisha tastes very much as it smells, and a powerful peach taste filled my mouth. I continued to smoke it with the wind cover on to see how long it would take for the smoke to get harsh, but surprisingly it never did. The same strong peach taste remained in my mouth without becoming too hot and that's a lot more than I can say for some other shisha brands.
Another pleasing aspect of this Fumari shisha is that, at least with this White Peach flavor, it doesn't taste too sweet. I mentioned earlier how some shisha brands and flavors tend to sweeten their tobacco too much for my taste. Fumari, on the other hand, retains strong flavor without going over the top with sweeteners. I continued to smoke the White Peach shisha for two sessions, replacing the coals once. The shisha lost flavor about halfway through the second session, but never became harsh, which is a common occurrence during round two.
Overall, I was pleasantly surprised with Fumari brand hookah tobacco, regardless of the fact that it comes in a pouch. It is worthwhile to note that this brand of shisha is only available in 100g pouches, which may work to your advantage to maximize satisfaction and maximize the amount of flavors you try (we've all mistakenly bought a 250g or larger size container of a flavor we later realized isn't really that great). I especially liked the fact that Fumari was able to retain a powerful flavor without being overpoweringly sweet. It's definitely worth a smoke or two, and as the packaging says, prepare yourself for a "Strikingly Fresh" smoking experience.
You can also check out our wiki page for Fumari White Peach.