https://www.youtube.com/embed/cLxLJtRIlZo
Hello, folks, Paul here once again with another review for you. This one is for Haze Cucumberita shisha, which is a Cucumber Margarita flavor. Odd, very odd, but surprisingly good. The flavor is predominantly margarita. It's very, like, kind of sour-sweet lime, but it has kind of a background note of cucumber that's actually quite refreshing, pretty realistic and really damn good.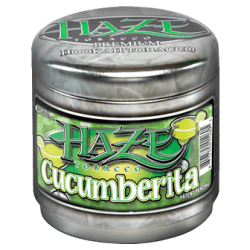 Obviously, the clouds are good. I've got my little micro-phunnel up here with actually three Coco Mazayas on it because this stuff is very heat-resistant. It can take a lot of heat and it produces, obviously, really good clouds as a result. It's a very, very wet tobacco, so I suggest using it with a phunnel bowl or Vortex bowl or something like that. If you like refreshing flavors, if you like things that are a little offbeat, I definitely suggest picking this one up. I think this is gonna be great on those hot, hot summer nights in L.A. and I plan on keeping this one on hand. Carrie's not gonna be smoking this one with me, though, because she kind of hates cucumber, so I'm kind of glad that she's not here for this review.
I would call it a sweet flavor, but it's on the more moderate side of sweet. It's not overly sweet. I would be tempted to call it a dry flavor, but it's definitely got some, like, kind of sweet-sour lime tones to it that are really pleasant. And that's it. This is Paul for Hookah.org saying thank you very much. If you like cucumber and you like margarita, check out Cucumberita by Haze. I don't know if I'd order a Cucumber Margarita at a bar, but this one might be changing my opinion a little bit. So thanks very much for joining us. Please go down below, like and subscribe, give us that thumbs up and I'll see you guys next time. Happy smoking.