Hookah bar in Lafayette, IN is definitely one of the better hangout lounges in the area. It was establish in 2005 – before I moved to the city. So far it is the only hookah lounge in the area (however, there is a second hookah lounge opening very soon).
Obviously the best thing about the lounge is the fact that they serve hookahs. But I also like their food very much. It is mostly Middle Eastern food and is fairly cheap and very good quality – try their Kefteh Kabob if you go there.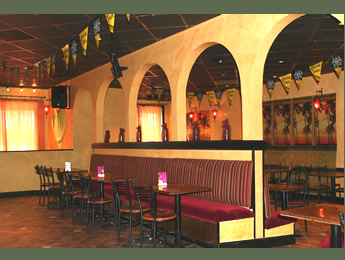 Their hookahs right now are four different prices:
$7.99 for a cheap tobacco hookah
$11.99 for medium tobacco
$14.99 for Starbuzz tobacco
$17.99 for fruit hookahs (they use actual fruits)
To be honest I don't like their cheap and average hookahs too much, comparing to other hookah bars that I've been. The hookahs itself are not so good and the tobacco is not packed well. Also, they leave the tobacco out of its box in a jar for a long time before using which causes it to loose the juice (the more popular flavors don't have this problem).
However, I like their new $14.99 hookahs. The hookahs are much better, and the tobacco (Starbuzz) smokes very well and for a long time.
At nights the Lafayette hookah lounge becomes more of a bar. I forgot to mention that they serve beer, wine, and liquor (also bottle service) too. Every other Thursday Fad i(the owner) brings a belly dancer as well. Last fall (2007) they had hookah specials for different nights and a buffet on Sundays. I'm not sure if they still do though.