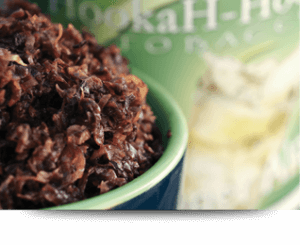 Brand and Flavor: Like Mom Used to Make (custom blend)
Shisha Tobacco Cut: Shredded and fairly dry.
Hookah Type: KM double trimetal. Nammor hose
Duration: 45 minutes
Bowl: Vortex bowl
Foil / Screen: Regular foil
Coal / Amount: 3 CH QL coals
Smoke: Awesome smoke. Very thick and dense. The ring potential is large.
Buzz: Light buzz. Typical Hookah-Hookah or Hookah Freak
Smell / Flavor: This is a custom blend I designed that is two parts hazel nut, one part graham cracker, one part 7 spice and one part peanut butter. It smells like a spiced peanut butter cookie. It tastes much the same.
Rating of 9 out 10. I am a little biased but this blend became an instant favorite for me. It's slightly sweet without being cloying. It has a great spice character and a slight peanut taste. All the flavors blend nicely while having their own distinct character. As you go throgh the session different flavors will present themselves in varying strengths. I tailored this flavor to my tastes and it took a while to get the proper ratios down. Now that I have it the way I want I decided to share it with those people that will lend me their ear. I also submitted this for the 2009 Hookah-Hookah blend off because it's comprised entirely of Hookah-Hookah flavors. I suggest trying out the mix if you have the components. It's well worth your time.