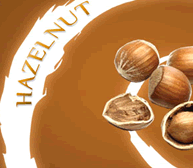 I have been a fan on Hookah-Hookah for a while. It's good stuff but it has some problems as all brands of hookah tobacco do. The major problem with Hookah-Hookah is light flavor. Not every flavor suffers from this. Some are damn strong. A lot of their blends have an accurate flavor but it's very hard to find that balance of accuracy and strength. Hazelnut is kind of in the middle. Hazelnut is a light flavor on it's own but I would say that this is a medium strength flavor. I smoked this one out of a vortex bowl with a single layer of foil and have tried it out of both my Trimetal and my Nour Syrian. The results are pleasant and enjoyable. It has a distinct hazelnut flavor that is fairly accurate and decently strong. It's smooth and sweet with a distinct hazelnut flavor.
I like this flavor and think that it is another great offering from Hookah-Hookah. It's perfectly nice to smoke along but I have found great use for it as a mixer. The only issue there is that because it's not the strongest flavor it can get overwhelmed easily.
I give Hookah-Hookah hazelnut a 7 out of 10.