https://www.youtube.com/embed/AWrQyNAtqGg
I don't want to spend this entire review ragging on the tobacco, so I am going to start off by saying that Hookah Hookah Black Madagascar Vanilla smokes very well and produces clouds with a light mouth feel and texture that is easily approachable. The clouds themselves are puffy an large. A lot of people used to deride Hookah-Hookah tobacco as poorly made and impossible to smoke, but I never had a problem unless I used way too much heat. Be a bit judicious with the coals and you wont have any burning problems. The only problem that I have consistently sighted when reviewing these flavors is the lack of strength, which brings me to the meat of the issue.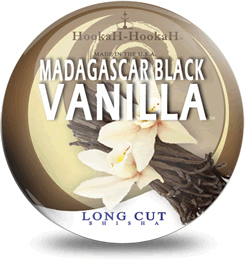 Perhaps I am just too much of a stickler for accuracy, but I can't really get behind a tobacco that tastes nothing like the declared flavor. Hookah Hookah Black Madagascar Vanilla is one such tobacco. I want to be clear that this is not a bad tobacco. The flavor offers nothing that I could easily peg as a "vanilla" flavor. There are elements of cake batter, hints of marshmallow, and lightly creamy sweetness that are by no means unpleasant while the overall flavor is too light and neutral to be interesting. It's kind of bland.
It's not terrible, but I'm glad that I got this as a free sample with another order and it was only a single flavor shot. I do not intend to buy this tobacco on my own and I would just mix the rest into blends as a sweetener if there was any left over. If you are looking for vanilla, keep looking. If you want a sweet, fairly neutral and unoffensive flavor, this isn't a terrible choice.