https://www.youtube.com/v/UdZy7Huwb_I

Right off the bat, I want to be clear that this is a sponsored review, but you can rest assured that it has been handled with the same unbiased treatment as is given to anything else. Nobody has enough money to buy my integrity!
I love mixing hookah tobacco. There are countless flavors already on the market with more coming out all the time, but there is nothing quite like discovering something new via a little bit of alchemy in your bowl. Sadly, we don't all have the time to experiment with ratios and combinations until we find a winner. That's why the Hookah Mixes App exists.
The idea is simple. This app lets you plug in the flavors that you have available in your collection and find mixes that you can make. You can then review each mix and rate them, and save your ratings. But how useful is it really?
Let us start with the things that I like.
Firstly, the interface is simple and easy to figure out. You are not going to spend half a day just trying to find one mix that you can actually make.
Secondly, many different flavors are represented in the library of tobacco. Just looking at Al Fakher, everything is represented. Even hard to find or rarely sold tobaccos like Ark Sous can be found and there seems to be a combination for just about everything.
Lastly, it is free to start using and even if they don't expand the list of brands there are still many different combinations that make for great inspiration. Don't have Nakhla mint, but you have plenty of AF mint? Substitute and see what happens.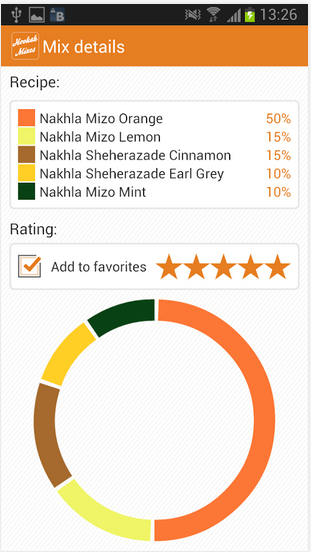 Now comes the not so good.
It may be free to start, but you have to buy expansions to your flavor library. I'm not talking about exotic and hard to find tobaccos either. Nakhla, one of the most common and often smoked tobaccos in the world is not included in the basic package. You have to buy an expansion and I see that adding up into one very expensive app if you have to buy each new brand for cash money.
Only a few brands are available right now and that doesn't include many of my favorites like Tangiers and Social Smoke. They will be expanding their database and adding the most popular brands.
It is not supported on iPhone, but they are working on an iOs version, so keep an eye out for that.
So, is it worth getting?
Sure. You should grab this app if you have an Android Phone and give it a whirl. Even if you don't buy extra expansions you still get a good number of interesting recipes and inspiration. My biggest wish is that the expansions and updates did not cost money. I would rather spend a little extra money up front with guaranteed updates and expansions for free rather than paying for each one individually. Even if each brand costs $1 that is going to add up much too quickly for my tastes.
If you've tried this app you should let us know and tell us what you think. Go below and leave us a comment with your opinions and what else ou would like to see explained/explored. You can also follow the thread about the app on our forum.