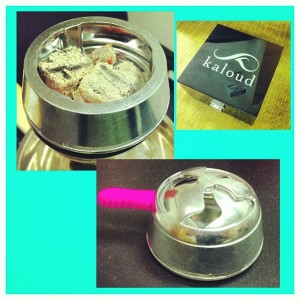 Kaloud is at it again with a new, innovative hookah product. The Kaloud Lotus is an American made heat management device that removes the need for foil and a wind cover by combining them into one product. Designed to regulate the heat transfer between coal and shisha, as well as reduce ash, particles, and gasses from the traditional shisha bowl set up. The lid is designed with a rotating exposure lid as well as a rubber grip handle to protect your fingers from the heated metal. Simply place your coals in the base of the Lotus, and put on the lid!
Intrigued by this product, we decided to give it a try. Using a Vortex bowl and three Gaia Natural Hookah Coals, we got a very solid two hour session. It could have probably gone longer if we added more coals. Here are the pros and cons from our experience:
Pros:
No need for foil
The coals lasted a long time
Keeps shisha from scorching
No need to readjust coals since the Lotus creates even heat distribution
Cons:
The device does get hot, and while the rubber handle helps, it still gets a little warm to the touch
It takes about 15 minutes for the bowl to reach an adequate heat
It sets on top of the bowl nicely, but could potentially be knocked off if the hookah got bumped (but that's true of all coals)
Definitely an awesome new invention. Kaloud even created a 'Kouture' line of the Lotus, made of real silver (priced at $1,500) and one made of solid gold (a measly $70,000). Never fear, the standard Lotus goes for between $50-$60 – slightly more affordable!