[hookah_rating ingredients="Cola"]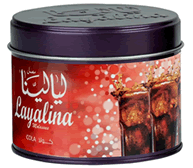 As you guys are aware I am a fan of spice flavors over fruit flavors most days. Cola, when tracing it back to it's roots, is a flavor based on spices, herbs and plant essences. This is because the grand-ancestors of them all started with the creation of medicines and tinctures, thus many of the soft drinks that countless people know and love today started as various cures for numerous ailments. Eventually the people either took a liking to a couple of the flavors or the salesman just mixed in sugar and sold it as a drink when people caught on to the lies.
Well today we are going over Layalina Cola. If you have been keeping up with my blog at all you should know that I am a fan of Layalina hookah tobacco and it has a special place in my heart because it's the first tobacco I ever bought. The Cola flavor from Layalina was pretty awful. I did something I almost never do. I gave up on a bowl. I have smoked entirely flavorless tobacco straight to the end of the coals but this one…
The scent coming off the tobacco is not very strong. It's of a slight herbal and stings the nose a bit. I was a little worried but kind of excited at the prospect of this one. I packed up the bowl and light up my coals. The first smoke from this one was nearly flavorless. Eventually a little bit of flavor picked up and it developed a slightly cola like note when the the smoke is blown through your nose. The smoke was not harsh but it was mostly flavorless and when there was flavor it was really unpleasant. It was a little herbal an kind of smelled like medicine. It was like an artificial cola flavored kids vitamin. Do those exist? I really hope they don't.
2 out of 10. This tobacco did produce smoke and the flavor did exist so this did not get a zero from me but the flavor was pretty terrible. I don't suggest buying this tobacco. If you are looking for a cola flavored tobacco there are much better options out there.