[hookah_rating ingredients="Pomegranate"]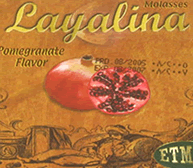 Pomegranate is a nice little offering from Layalina that isn't amazing but isn't bad by any means.
I was smoking this flavor with my friends recently. I was using my Khalil Mamoon double trimetal and smoking out of a vortex bowl. The smoke was nicely textured and fairly thick. There are no complaints from me in regards to the smoke quality. The place that this blend is lacking is the flavor. It tasted mildly of grenadine, which is a sweet syrup used in the mixing of alcoholic drinks that is flavored with pomegranate, but it is far too lite.
What flavor can be picked out is pretty nice. It's sweet. As I stated earlier it tastes like grenadine. It does not taste like an accurate representation of pomegranate, which lost it some points. If you like pomegranate and want to try a tobacco that is flavored like the fruit… well… good luck. I haven't found one yet. This isn't a bad tobacco. But it's not quite pomegranate.
5 out of 10. Mediocre. It's flavor is not accurate but it is tasty. It's like a very candied and somewhat muted pomegranate, which translates into grenadine because that is the way I would describe the syrup. It smokes nicely and produces some good clouds but it's not very impressive. Personally I would pass this one over.