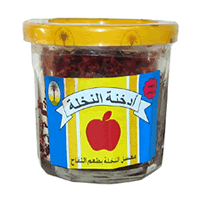 Nakhla Double Apple is a staple in the hookah smoking world. It is the most smoked hookah tobacco on the planet but some people don't really like the flavor of aniseed. Personally, I love it if it's done right. For those that on't like the aniseed flavor, there are other options. Bahraini Apple is one of the best options.
Bahraini Apple is more of a true apple flavor. It is a red apple flavor through and through. There are still some spicy flavors and a little bit of aniseed but it's muted and more in the background. I really enjoy this flavor and this is a solid change of pace for the double apple smoker.
This flavor is a little hard to find because only a few vendors carry it but if you can find it it's worth the purchase.
8 out of 10 I think that this is one seriously solid flavor and it's a great step toward double apple. Even if you really don't like double apple, this is a solid apple flavor. It's one of the best apple flavors on the planet. It doesn't have that waxy flavor that so many apple flavors seem to have. I really suggest buying it and keeping it in rotation.