Easily one of my favorite hookah tobaccos; this is Nakhla Lemon. It's a part of the Fakhfakhina line and it is probably one of the most true to name tobaccos you will ever smoke.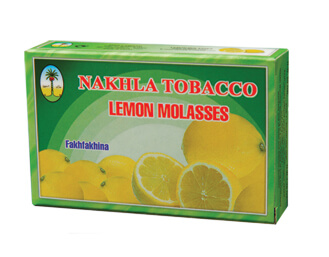 I want to point out that this is a sweet tobacco, but it is by no means a candy flavor. You'll notice this right off the bat when you open the package and find your nose assaulted by fresh lemon mixed with furniture polish. Trust me when I say that it gets better. I've seen plenty of people turned off by the pungent and overpowering scent of tobaccos like this, but the flavor is another story.
That powerful scent translates into a strong, but not overpowering flavor that I absolutely love. It's reminiscent of lemon essential oil and sweetened lemon rind. It is beautifully fresh and cleans the palette with each draw while lingering just enough to let you know that you're smoking. There is a tiny note of tobacco on the exhale, but not enough to distract from the fruit. Rather it compliments the lemon.
This is a great tobacco to mix with and I've found success mixing it with just about everything in my stash. Rose, mint and earl grey are just three of my favorite Nakhla flavors to blend with lemon, but don't get stuck mixing within one brand. Does that pink lemonade tobacco taste too much like candy for you? Throw in some of this tobacco and reintroduce a little reality.
I believe I've written a long enough love note to woo this tobacco to bed. So, now that it's approaching 3 AM and my hookah has called it quits, I'm going to follow suit and fall asleep in a house tinted with the scent of lemons.