https://www.youtube.com/embed/l56kgTIj4ck
Mint is the foundation of any good hookah tobacco collection. While many have tried to topple the king, few have even come close to unseating my idea of minty perfection. Nakhla Mint is easily in the top three best mint tobaccos on the market and everyone needs to try it.
Nakhla is known for natural flavors and their classic mint follows suit with the scent of freshly cut mint peppermint leaves. Right out of the box you will be pleased by a mildly sweet and potently minty aroma that I truly love. It might seem a bit weaker than many of the other mint bomb flavors on the market, but I promise you that it's plenty minty.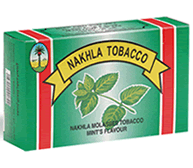 The flavor is similar to the scent. It's somewhat sweet without tasting like candy or gum and has a distinct note of vegetation that is spot on accurate to the flavor you get while chewing on mint leaves. My childhood home was surrounded by peppermint plants and this tobacco brings back memories that I want to share with you.
If you like mint, buy this tobacco. If you don't like mint, buy it anyway and give it a shot. It's one of the best mixers on the market and easily one of the best standalone flavors.