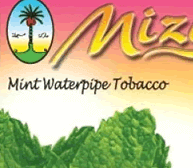 Mint is the old standby that everyone has tried and some people love. I am one of those people that loves mint tobacco and I keep it on hand at a times. The Mizo offering from Nakhla is one of the best mint flavors on the planet. This is a review for the boxed version of Mizo mint as opposed to the plastic tub version. There is apparently a difference. I'll find it eventually.
Let's get own to brass tacks. This tobacco is great. I'm just going to say that up front. This tobacco has no dye of any kind and is a natural product. The smell is distinctly minty and it punches you in the nose. It is awesome smelling and very fresh with a scent similar to that of fresh mint leaves. This does not smell like artificial mint gum.
The smell is pretty much the same as the scent. It's a beautiful mint flavor with a touch of sweetness and a very powerful cooling effect on the throat and lungs. There is a distinctly vegetal flavor that reminds me of chewing on mint leaves when I was a child. don't expect this to taste like minty candy. There are other mints on the market that will offer you an artificial mint candy. This is not it.
The smoke is smooth and flavorful, but the cooling effect is a bit much for many people. The clouds are big and puffy, as they often are with the Mizo line.
9 out of 10. This is really one of the best mints on the planet. It's affordable and of a high quality. Get this mint tobacco. It is one of my top two mint tobaccos.