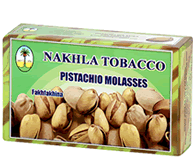 Nakhla is one of the most smoked hookah tobaccos on the planet. The original Nakhla factory was started in 1913 by Saleh Mohamed El-Ibiary and it was the start of a dynasty. Nakhla has always been an innovator. They are always trying new things based on the changing tastes of their customers all while keeping their more traditional tobacco at a very high standard of quality. Many modern smokers are not a fan of nakhla because of it's buzz and the relatively dry nature of the tobacco. They are used to things like Starbuzz and Social Smoke. Both of which are great products but are sweeter and much easier to smoke tobaccos.
Pistachio is one of the stranger flavors I have ever seen. Nakhla is the only company I know of that carries a pistachio flavor and after smoking this one I am kind of sad that they are. I want to see what other companies would do with this unique flavor.
For anyone that has had pistachio ice cream you know what this smells like. It's a very sweet scent of pistachio and an almost vanilla like quality.
The clouds are really good. Many people don't expect great clouds from Nakhla but they are there, you just need to work for them a little more.
The flavor is very light. I find this sad but understandable. Pistachio is not the strongest of flavors out there and even when concentrated it is still fairly subtle. It tastes like natural pistachio with just a touch of extra sweetness. Pistachios are a fairly sweet nut to begin with so it comes across as natural.
7 out of 10. I love this flavor but it is way too light for me to rate higher. I was apprehensive at first but I am very glad I took the time to try this one out. If you like pistachios you owe it to yourself to try this one.