https://www.youtube.com/embed/IFpTmdTHtAM
Vanilla is a flavor that is often used to represent plainness and boredom, which is not what I'm looking for in my hookah sessions. You all know Nakhla and their reputation for natural flavors of high quality. So, how did they do with vanilla?
Not as well as I was hoping. Vanilla is a subtle flavor that is easily overpowered and hard to replicate. The smell on this tobacco is very sweet and oddly earthy with a somewhat pastry like scent. There are mild tobacco notes and a light note of fruit.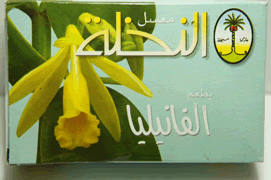 The flavor is similar to the scent, but I find it lacking in actually vanilla flavor. This is a Nakhla flavor in which you can actually taste the tobacco that comes across as a bit of a bready and nutty note. It sure doesn't taste like real vanilla beans, but I didn't really expect it to do so. Vanilla hookah tobacco either tastes like cake batter, frosting or creamy candy. It doesn't taste like that either.
If you're looking for a true and realistic vanilla flavor, this isn't the tobacco for you. If you're looking for something that tastes like vanilla frosting and creamy desserts, this isn't the tobacco for you. So, who is it for? This tobacco is an interesting combination of sweetness and mild tobacco that I enjoy, but I'm not biting at the bit to smoke. Try it in a 50g and see if you like it.