https://www.youtube.com/embed/wHOn2efChZE
Strawberry! You are the ever illusive unicorn that is hunted, but may never have existed in the first place.
The next strawberry flavor that's on the chopping block is Othmani Damascus Strawberry and it's holding up pretty well. This is a fairly modern style tobacco and you should expect a bit of a mess when you open the pouch this one comes in as it is very wet and dyed red. Bassem has told me that the red coloring is going to be phased out in the new batches, but it's pretty bloody red at this point.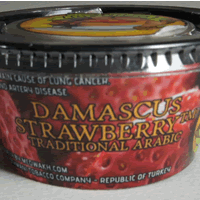 The smell is great. It smells like strawberry preserves and has a distinct sweetness with a bit of strawberry bubblegum mixed in. It's very strong and pretty mouth watering.
The flavor is a little weak by my standards, but it's still pretty good. This is one of the better strawberry flavors that I have smoked. It's fairly accurate with a candyish edge while not being overly sweet. The awful chemical flavor that plagues so many strawberry flavors is not present which I really appreciated. This tobacco takes a good amount of heat to really get going, but it is not heat sensitive at all. Don't be gentle with this one or you're not going to get any flavor.
6 out of 10 I am really interested to see how this flavor differs from the other strawberry in the Othmani line. This is a good strawberry that I suggest picking up, but it's too light. If this was a bit stronger I would say it's the best strawberry.