https://www.youtube.com/embed/rGA_lKQqgpo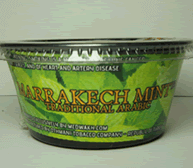 Mint is one of those flavors that seems to be mandatory for every brand and they all seem to have a different take on it. One tastes like fresh mint leaves from a garden where another might taste like toothpaste, but no matter your preference, you should have mint in your collection and Othmani has produced one that I really enjoy, namely the Othmani Marrakech Mint.
This mint is definitely on the more natural end of the spectrum and that works nicely for me. When you smoke this one, you should expect some flavors reminiscent of vegetation. Tasty stuff, but not for people looking to smoke candy.
I would call this a dry flavor and a relatively light one as well. This is not comparable to the minty punch of Mizo Mint and nowhere near as strong as Cane Mint, so don't go to this one looking to knock your socks off. That said, it's nicely balanced and will be a good option for people who find the super strong mints to be too intense.
Give it a try and you might be surprised how enjoyable a somewhat realistic and mellow mint tobacco can be.