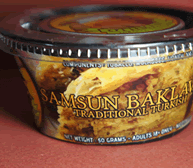 Last week I introduced you to Othmani Tobacco and I let you know how excited I was to try this tobacco. Well, I was chatting with Bassem, the owner and operator of Medwakh.com and he was very nice to me. He sent me a small sample of each flavor the Othmani line offers.
The flavor that first caught my eye was Samsun Baklava and that was the first flavor I packed into my bowl. For those of you who don't know, baklava is a wonderful dessert that consists of many layers of filo dough, pistachios or walnuts and different spices depending on regional variation. All of this is formed into one giant sheet of deliciousness, cut into diamond shaped treats and soaked with syrup. Traditionally this syrup is made with honey and a bit of rose water or orange water.
It's amazing.
Well, the tobacco had a high bar to meet and I don't think it quite got there.
The smell is pretty sickeningly sweet and it has a distinct note of artificial honey flavoring. Of all the tobacco I was sniffing while opening samples, this is the only one that actually made me pull back a little. Now, I want to make it clear that this didn't entirely put me off. I know that subtle flavors usually need to smell overpowering to have any flavor at all. So, I was still hopeful.
The flavor is decent, but it's not really baklava in my opinion. The flavor is distinctly of wildflower honey with on a little bit of that artificial note I detected in the scent. If this were just a honey flavor, I would say it might be the best honey flavor I've ever smoked. Sadly, there is nothing that reminds me of filo dough and there is only a slight nuttiness that presented itself once or twice. I may have been a little gentle with the tobacco because I'm entirely new to this brand, but I'm hoping that using a bit more heat bight bring out these elements a bit more. I'll have to do further testing.
6 out of 10. I was really looking forward to this tobacco and it was a bit of a let down. I don't hate it and I look forward to giving it another try, but I'm interested in using this as the basis for my own baklava blend. A healthy dose of Samsun Baklava, some Nakhla pistachio, Hookah-Hookah hazelnut and just a tiny touch of Al Fakher Golden rose; this could be very promising. I'll report back.