When I first got my shipment of Othmani tobacco, there were a few samples that peaked my interest and got me excited to smoke them. Star of Alhamra was definitely on this list and it's about time that I gave this one a try. If you've been keeping up with my reviews of the Othmani line, you know the breakdown on this brand, so I am going to skip past that part and get right to the meat of the matter.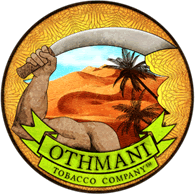 The smell of this tobacco has a distinct citrus profile with a note of red forest fruit. The scent of lemon oil bites the nose in a pleasant way and makes my mouth water.
The smoke is well textured and voluminous. I did find this tobacco to be a bit heat sensitive, so be careful with your coals and don't burn this one. The one time that I did burn this tobacco, I was able to recover the session with no lingering burnt flavors.
If you manage your heat properly (not too difficult to do) you'll be rewarded with a nicely balanced flavor profile in which citrus is definitely dominant. Lots of lemon up front with a bit of orange and a sweet grape flavor supporting it made this a wonderful session when starting out. As the bowl heated up, it really came into its own and a light, nutty tobacco flavor presented itself. This is the first time that I've noticed any tobacco notes in the Othmani line and it plays very well with this fruit blend. The fruit notes also opened up and some other flavors came to the front before blending into a nice and mellow citrus/fruit punch flavor.
8 out of 10: This is easily one of my favorite mixed fruit flavors. I would like to see a more distinct showing from the other fruits on the label, but I'm not going to complain too much. If you like mixed fruit flavors, this should definitely be on your list.