https://www.youtube.com/embed/Kf_zpwwJq6M
When I first tried jurak there wasn't much of an intermediary step. It was pretty much a pedal to the metal kind of race that usually ended in a crash. Happily, Othmani Tobacco has made available a new nd interesting tobacco that may just fill that need. Allow me to ramble at you about Khobar Jameel Jurak from Othmani and you may just find the tobacco that turns you to the dark side.
As with any jurak, you should never expect to get amazing clouds out of this tobacco (see our article on how to smoke jurak style tobacco) or any of the others in the Othmani Jurak family. These tobaccos are made to be enjoyed while focusing on the flavor rather than showing off for the hookah lounge crew. It took a good deal of heat to get this one going, but I only needed to ad one piece of charcoal and a wind cover on top of my normal two pieces per bowl. I have seen some juraks that require double the heat, so I would say this smokes easily for a jurak.
A sour tobacco note is the most pervasive scent and flavor you're going to get from this blend along with some sweetness to balance it out. It's a fairly clean tobacco flavor without any of the notable smokey flavors that dominate some other juraks. The molasses comes through a bit while the honey offers nothing of note. Fermented tobacco may be the center stage star, but there are other flavors at play. Citrus oil rings true without being overpowering or turning this into an Earl Grey flavor. The spice notes start with a light cinnamon and expand outward, but never go too deep. Even though the packaging shows a lot of different spices I do not detect them on any appreciable level.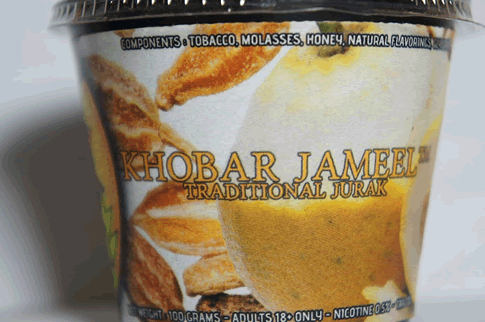 The nicotine levels are high, but they are lower than many other juraks and black moassels. I would say that both the buzz and flavor share some similarities to AF Soft Black. If you've tried Soft Black and are looking for something more complex, but you don't want to get overwhelmed by the most intense tobaccos; this is a great introduction to jurak. It's simple without being bland and has a lot of subtle flavors to explore. Try it out and let us know what you think.