There are some truly terrible coffee flavors on the market with the worst of them tasting like a combination of artificial chocolate and sweetened popcorn rolled in dirt. I am happy to say that Othmani Turkish Coffee is better than that by leaps and bounds. There have been a few changes made to Othmani as of late and the biggest is the packaging.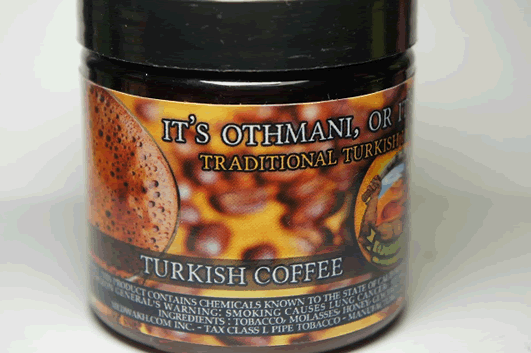 The new tubs are sturdy plastic with screw on lids that feel very durable and sport some really beautiful labels. Whoever they have taking their pictures and editing their labels knows a thing or two about packaging a product to peak interest.
The next layer of the packaging is the freshness seal that has been added under the lid. It's a nice little piece of assurance against tampering and it's a few steps beyond almost all other shisha tobacco brands. Below that you find a resealable foil pouch and inside that is finally your tobacco. I like the fact that the folks at Othmani listened to their customers and upgraded their packaging. But, I do think this level of sealing is a little overboard.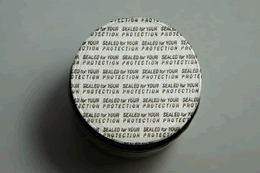 The tobacco itself smells very sweet and pungent with heavy notes of chocolate and syrup. It's obviously a coffee flavor, but it's not overpowering like many other strong coffee flavors. It is strong enough to stick to your fingers if you handle this tobacco and make them smell like coffee for the rest of the day.
The smoke is puffy and the clouds definitely have ample volume for those of us who love big smoke. Be careful when smoking this one as it packs a bit of a nicotine kick even though it is very easy to smoke.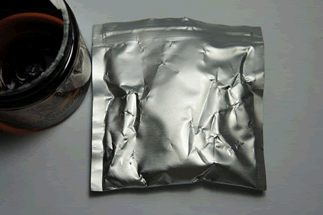 The flavor is more of a soft mocha flavor than a Turkish Coffee. It's sweet, but not nearly as sweet as the scent made me believe. Sadly, I have to complaints. The first is the strength of flavor. I'd say this one sits on the lighter end of medium where I want my coffee flavors to be in my face and let me know they are moving in for a while. Secondly, I expect a little cardamom in a Turkish Coffee flavor and I'm not getting any here. There are some mild spice notes, but nothing distinct.
Is it a good flavor? Absolutely and if you like sweetened coffee with chocolate then you'll probably love this tobacco. I prefer my coffee without sweeteners and brewed very strong, but I still really enjoy this tobacco and I'll be keeping it on hand for a more mellow session.