https://www.youtube.com/embed/C6SLSUtfYHg
Paul: Hello folks, it is Paul and Cari here once with another review for you and this one is another Shisha Fruits review. This is for DeKang Shisha Fruits Pineapple.
I'm enjoying it. The first thing I really noticed about this product is that it smelled like a pineapple Julius, which I might be dating myself. That's what it smells like in the package and I was super excited. It's not quite what I'm getting but I'm still enjoying it.
The clouds are obviously good. The flavor for me, and I don't think this is going to be any kind of surprise, tastes a lot like dried pineapple, which makes a lot of sense considering the fact that this is just a dried pineapple with glycerin and pineapple flavoring.
There is definitely some candied notes to it. It is very sweet, but it's good. It definitely takes like pineapple, which is nice.
Cari: One of my favorite things ever is white gummy bears because they're pineapple flavored and this tastes like a punched up version of the Haribo bag of gummy bears because those gummy bear are fairly light in flavor, but that's exactly what it tastes like to me.
It's not particularly acidic like you would get with fresh pineapple but it has a very strong pineapple flavor while still being sweet and mellow, which is really nice.
Paul: That is a really good commentary on the flavor. That is exactly what this tastes like. Now I really want to mix this with Fumari White Gummy Bear, which seems to be my go-to mixer as of late.
This is definitely a positive a review, a thumbs up for DeKang Pineapple Shisha Fruits. Good stuff, if you like pineapple, you should seriously check it out. If you like white gummy bears, if you like Haribo gold bag gummy bears, apparently this is one of the best facsimiles that we've found so far.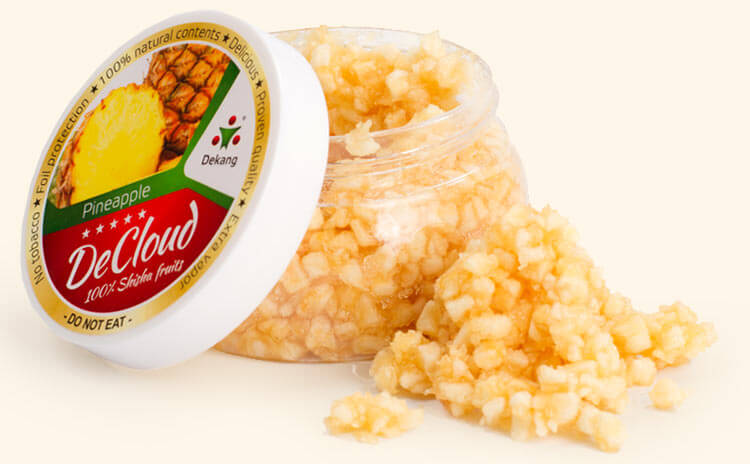 That's it for this review. Please go down below, like and subscribe. Give us that thumbs up; it really helps us out and lets us know what you like to see in the future. Please leave comments about what you would like us to review and we'll try to make that happen.
This is Paul and Cari for hookah.org saying thank you very much for joining us and happy smoking.
Hookah-Shisha.com carries Shisha Fruits and is one of our sponsors so show them some love if shopping for Shisha Fruits flavors.