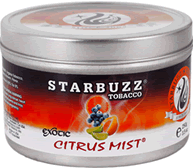 The other day I got a pack of citrus mint Starbuzz hookah tobacco. It was the first time I smoked Starbuzz tobacco at home (I had smoked it before at the hookah bars).
The tobacco is supposed to be a mix of mint and citrus. The tobacco smoked great (as all of the Starbuzz tobaccos that I have smoked so far). It was a smooth and thick smoke and lasted quite long.
But the flavor wasn't exactly what I expected. I couldn't smell the mint (at all). The orange flavor was overwhelming. While I liked the smoke, I don't think I will be getting this particular flavor again.