Starbuzz is a good brand for a lot of people and while I am a big supporter of more classic tobaccos I will admit that I really like something sweet and dessert like once in a while.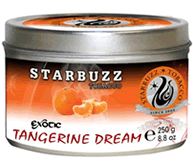 Starbuzz Tangerine Dream is a nice blend that I have been playing with lately. It's a lot less sweet than I though it would be. Sadly the flavor was not as strong as I was expecting. Starbuzz is known for it's big clouds and it's strong flavors. It's not known for it's accurate flavors. Many of them are more like candyish and often chemical version of the flavor that they are trying to replicate. This one seems to have gone against the grain.
This is definitely a citrus flavor. It's fairly tasty and after the bowl really heats up you can pick out the flavors of a tangerine and other citrus. It's somewhat natural but still very sweet. The problem is the lightness of the flavor. It's similar to some other lighter citrus flavors where you get a flavor more like a glass of water with a bit of essential oil in it. The flavor is easily recognized but not particularly strong. It avoids the oily and overly essence like flavor that some other blends can have but, to be frank, I would take that happily if the flavor was stronger.
6 out of 10. I really like the idea of the flavor but it leaves me wanting. I have been mixing this one with a few other things and enjoying it but the flavor gets lost way too easily. It's worth a try if you are a fan of the Starbuzz take on citrus but don't like the minty notes of Citrus Mist.