https://www.youtube.com/embed/H-W078jZdE4
Hello, folks, Paul here once again and I've got another review for you. This one is for Birquq Cane Mint by Tangiers tobacco. The Birquq line is a slight modification on the Noir style of tobacco. It uses, from what I understand, a slightly different type of molasses that makes it less heat-sensitive and less prone to humidity shock, which means less acclimation and easier management in the bowl. You don't have to do like the voodoo rituals that you usually need to do with Noir to get it to smoke right, so if you've had problems with the Noir line in the past or getting it to smoke properly, Birquq is a great, great option.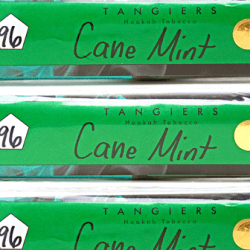 Now, Cane Mint itself is a straight peppermint flavor with a very strong menthol kick which is really nice. I actually find that the mint flavor itself is a little light for my taste, I like things that taste heavily of natural mint, but the menthol kick is very refreshing, very intense and I'm a big fan.
If you like mint flavors, I definitely suggest checking this one out. Like I said, if you've had problems with the Noir line, you should definitely give this one a try because I think that it is easier to manage and I think that it is well worth your time. So that's it. This is Paul for Hookah.org saying thank you very much for joining us. Please go down below, like and subscribe, give us that thumbs up and I'll see you guys next time. Happy smoking.