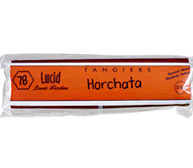 Brand and Flavor: Tangiers Lucid Horchata
Shisha Tobacco Cut: It's the general Tangiers cut. Brown and very wet.
Hookah Type: KM double trimetal. Nammor hose
Duration: 2 hours
Bowl: Vortex bowl
Foil / Screen: Regular foil
Coal / Amount: 3 or 4 CH QL coals depending on the necessity.
Smoke: Awesome smoke. Very thick and dense. A strong mouth feel.
Buzz: Medium. It's nice and relaxing.
Smell / Flavor: It smells like creamy cinnamon and molasses. The flavor is similar but a bit light.
Rating (1 to 10): 8 I am giving this tobacco a solid rating. It's a very tasty and very resilient tobacco. This is a nice spice flavor with a distinct cream like feel. It's tasty and lives up to the noir version. I prefer the noir by a little bit because the tobacco flavors actually blend well with the horchata flavors. When I have the option there is very little I prefer over a mix of lucid horchata mixed with noir horchata about 50/50 with each other. If you are a fan of spice flavored tobacco then I suggest picking this one up. It's great and easy to work with.