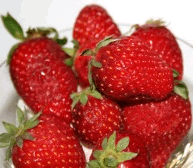 Brand and Flavor: Tangiers Lucid Strawberry
Shisha Tobacco Cut: It's the general Tangiers cut. Brown and very wet.
Hookah Type: KM double trimetal. Nammor hose
Duration: 1 hour and 40 minutes
Bowl: Vortex bowl
Foil / Screen: Double regular foil
Coal / Amount: 4 CH QL coals
Smoke: Awesome smoke. Very thick and dense. A strong mouth feel.
Buzz: Medium. It's nice and relaxing.
Smell / Flavor: It smells like strawberry jam. The flavor is similar. It's kind of like breathing over a pot of strawberries and sugar cooking on the stove.
Rating (1 to 10): 7 I still have not found the perfect strawberry but I am discovering some interesting attempts along the way. This flavor has a distinctly natural quality to it. It oes not taste like artificial strawberry. Rather it tastes like preserved strawberries. The combination of molasses and strawberry flavors makes it taste kind of like dehydrated strawberry. It must sound like this is the best strawberry flavor on teh market but it has the same problem that most strawberry flavors have. It's weak. I can taste the flavor and, unlike many other strawberries, I can actually say that it tastes like strawberry. But it's still too light. I just think that strawberry is not a flavor meant to translate well into tobacco. As a complimenting flavor it's wonderful. As a standalone strawberry just does not have the strength to hold up.