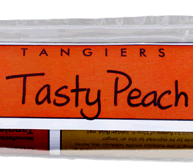 Brand and Flavor: Tangiers Lucid Tasty Peach
Shisha Tobacco Cut: It's the general Tangiers cut. Brown and very wet.
Hookah Type: KM double trimetal. Nammor hose
Duration: 1 hour and 40 minutes
Bowl: Vortex bowl
Foil / Screen: Regular foil
Coal / Amount: 3 or 4 CH QL coals depending on the necessity.
Smoke: Awesome smoke. Very thick and dense. A strong mouth feel.
Buzz: Medium. It's nice and relaxing.
Smell / Flavor: It smells like peaches. It's a nice balance between natural peach and candied peaches. The flavor is more toward the end of natural and strong.
Rating (1 to 10): 8.5 This is the best peach flavor I have ever found. It's a nice and sweet peach with a slight flavor that is like the skin of a peach. It's very tasty. I docked the score by a half point because the flavor could be a bit too sweet for really long smoking sessions. I would prefer a very natural peach flavor rather than one that tastes like peaches in syrup. The other point deduction is the usual one for improvement. It's a damn good flavor and a great tobacco but it's not a ten. I am going to push this tobacco and see how long I can smoke it for. If you are looking for a peach flavor this is one of the best I have found. It lives up to it's name and is strong and accurate. It's very heat resistant and a versatile tobacco that I am going to suggest to people who want a good peach.