If it is not obvious yet, I like the kashmir line of flavors from Tangiers. Kashmir Prune is one of the more recent releases from Tangiers and I have been smoking it quite a bit recently.
The smell on this tobacco in very spicy and floral with a richness that I can't quite describe. There is a mild fruitiness, but the "kashmir" is the most distinct scent. There is a distinct molasses scent that is often associated with Tangiers, but this scent never goes away when acclimated.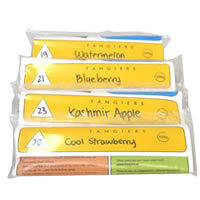 The smoke is what I expect from Tangiers. It's voluminous and has a fairly nice texture. The clouds are puffy and will satisfy even the biggest cloud hounds. The smoke can be a little rough and heavy on the chest, but it is not overly heavy to smoke and enjoy. It is quite heat sensitive when compared to other tobaccos from this line.
The flavor is almost entirely kashmir. Spicy floral goodness, but there is a very slight fruit flavor that is hard to pick out. The flavor, beyond kashmir, is way too light. I was excited for this flavor because I love deep flavors like those you get from plums, prunes and other dark forest fruit. I had heard reviews that mentioned notes of raisins and dried fruit that never really presented themselves.
7 out of 10. I like this flavor plenty, but it really just tastes like kashmir and very little else. If you like kashmir. then you will likely enjoy this flavor. If you are looking for a prune flavor then you won't get it here.