https://www.youtube.com/embed/_p6o_3951tk
It's important to have good tobacco, charcoal and hookahs, but none of it matters if you can't find what you want or if it never gets to your door. The vendor is your portal to the world of hookah and I have ordered products from almost all of them. It's time to put my experiences into text and let you know who I think deserves your business.
Hookah Hub is not a vendor that I've ever dealt with before, but I recently placed an order with them and I've got some opinions.
Apparently they have been around for quite some time even though they seem to have flown under the radar for many folks. 9 years is a long time for a business of any kind to be around and that is worth commendation. I ordered a few packs of tobacco just to test the waters and try something new. Two packs of Fumari and some AF later and my cart was ready to check out.

The website is easy to navigate and they have a moderate to good number of products available. The only real problem is their stock. When I was ordering I found each brand to have only a few of the flavors available. Some brands, like Fumari, had a good selection of some of the most popular flavors. Others, like Nakhla, only had one or two flavors available in the 50g size. I am not sure if I caught them between restocking, but it's definitely not where I would go if I wanted to have the biggest selection of brands and flavors available for a single order.
The prices are pretty good. They are either in line with the other vendors or a bit cheaper. This is offset by the shipping, which is not flat rate. It's not terrible or a deal breaker for me, but I like flat rate shipping because large orders can rack up those shipping charges to quite the economic impact. Also, small orders still usually command about $10+ for shipping, so that makes each of those 5 packs of tobacco cost an extra $2 each. It works out fine as long as they offer good sales and discounts.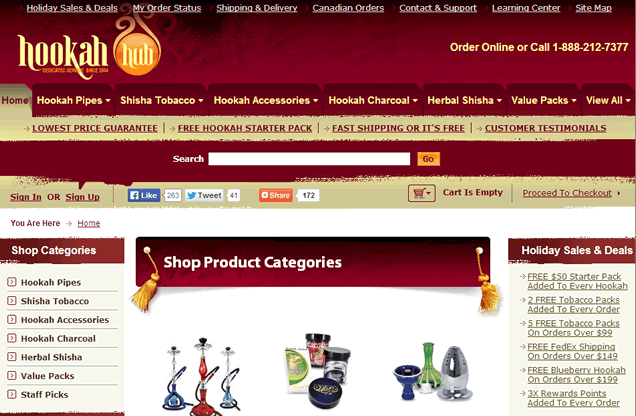 The processing, customer service and shipping were all pretty fast. I've had too many shipments sit in limbo for a few days while I chomp on my nails waiting for my new flavors. Hookah Hub takes high marks in this area.
The packing was good even if the box was a bit beaten up. The appearance didn't matter because it protected the well packed contents. Everything came to me intact and none of the packs of tobacco were damaged, leaking or otherwise compromised.
Would I recommend Hookah Hub? Sure. I love the service, but wish they had better selection. The prices are good so long as you're making a good size order or a very small one and the shipping/processing was right on time. They aren't my first choice, but they are now on the list of vendors that I'll be using.