Lemon is one of those flavors that everyone should have in stock. The thing is, everyone has a different idea of what they want from a lemon flavored tobacco. Some want something that tastes like lemonade. Others want something that is more akin to lemon oil… I'm in the second category.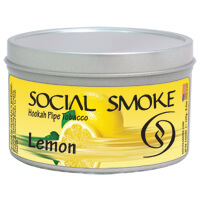 If you want strong and natural lemon flavored hookah tobacco Tangiers is a great option. I suggest the Lucid line because it's lighter in nicotine and easier to get smoking right. If you don't have access to Tangiers,Nakhla Fahkfahina Lemon is another great option. It smells a little like floor cleaner in the package but it tastes great. A little sour a little sweet and slightly bitter. If you can get your hands on the Mizo Lemon it's even better if not a little more candied.
If you want something sweeter and more like lemonade I think the best option is Social Smoke Lemon. The flavor is strong and sweet and should treat you very well. It's a little bit more like lemon candy than I want but it's pretty delicious.